The Guardian Wednesday 9th September,2015, David Pollock
http://www.theguardian.com/cities/2015/sep/09/the-slow-death-of-music-venues-in-cities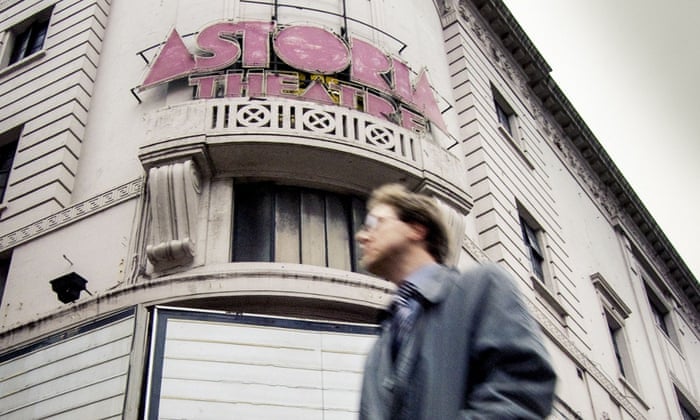 Small music clubs aren't just incubators for bands – they play a vital role in a healthy urban ecosystem. What will happen if they all get turned into flats?
Many believe the police had it in for the Arches for a long time. Named after the warren of arches it occupied under Glasgow's Central Station, the venue – which opened during Glasgow's European city of culture year in 1990 – had hosted Daft Punk's first UK tour in 1997, the still-talked-about Scottish debut of 2manyDJs, and icons of Scottish indie music, including the Jesus and Mary Chain, Cocteau Twins and Belle and Sebastian.
In early 2014 17-year-old Regane MacColl from Clydebank died at a club night in the venue. There was little argument that the club's policies and procedures should be reviewed, but what was asked of them was a stranglehold: more security; more searches; reporting of the smallest drug finds; an astonishingly unworkable request to create "periods of calm" in which they stop the music and put the lights up.
"There was literally a line of yellow-jacketed policemen on both sides of the road," remembers Arches music marketer Bram E Gieben of one night during the venue's final days. "Hundreds of people waited for an hour and a half to be searched going in."
Aside from the "periods of calm", the Arches complied dutifully with the new demands. Eventually the collated data of those drug finds was used to revoke the venue's late licence, effectively closing not just the concerts and club nights, but the highly regarded live arts programme as well as a new theatre arm, both of which relied on the music for most of their income.
"The night-time industries are treated as a poor second cousin. They're under constant scrutiny in a way that other cultural activities aren't," Gieben says. "It's hard for bands to progress and get bigger in a city unless there is a spread of mid-level venues, and now the option of a venue the size of the Arches has gone from Glasgow."
The Arches isn't alone: the Roadhouse in Manchester, the Point and the Barfly in Cardiff, the Picture House in Edinburgh, the Astoria, the Buffalo Bar and Madame Jojo's in London – all venues that have been lost; many the victims of tough licensing laws, unwelcoming neighbours, aggressive development and an increase in property values.
Mark Davyd co-owns the Tunbridge Wells Forum (capacity 250) and heads the Music Venue Trust, an industry body aimed at preserving grassroots venues, which he defines as anywhere with a capacity under 750.
"The live music industry's thriving," Davyd says, "but the smallest venues are falling off the chart. What we're left with are these megashows with very high ticket prices, which buoy up the headline figure. Will two more new shows at the O2 in London feel the same as 250 shows at a small venue?"
Each city is unique, but while London's music scene is partly regrouping away from the centre – Hackney thriving while Soho fades – the headline figure is one of decline. Of the 430 music venues that traded in London between 2007 and 2015, only 245 are still open, according to the trust. National figures are currently unknown, but Davyd says he's been contacted by more than 60 troubled venues in the last year.
"It often starts from a relatively benign decision," he says. "The Troubadour in London is up for sale because they had a noise complaint related to their use of the garden. Kensington and Chelsea borough said they couldn't use it after 9pm, their drink turnover went down substantially, and now there's no guarantee it'll be a venue in future.
"Someone wants to build next to the Fleece in Bristol," he continues. "Bristol city council have fought hard for them, but they don't have any support in law and flats are going to be built 20 metres from the main stage. In the next couple of years there will be noise complaints that will cost the Fleece £12,000 to £15,000 to handle, and it's not making that in profit. The Point in Cardiff: they installed £68,000 worth of acoustic baffling to stop the complaints from a new development, and servicing the loan put them out of business. These little things just build up."
Sometimes venue landlords take hard-to-refuse offers for their premises. In Edinburgh, for example, the Picture House was bought by JD Wetherspoon, and the Venue sold for studio and art gallery space. "You can't blame people for selling up," says Davyd. "The valuation of the [Tunbridge Wells] Forum as a music venue is about £375,000. If we sell it to be flats, it's worth about £1.2m. "
Questions are finally being asked, however, about the part that music venues play in the ecosystem of a city. In May 2015 the first Music Cities Conference was held at the Great Escape festival in Brighton; another is scheduled for October in Washington DC.
The Damned at the Picture House in Edinburgh on their 35th anniversary tour in 2011. Facebook Twitter Pinterest
The Damned playing in 2011 at in Edinburgh's Picture House, since closed. Photograph: Bryceland /Rex Shutterstock
"It's not the music industry we're catering to, it's everyone else," says Shain Shapiro of the Sound Diplomacy music consultancy, which organised the event. "Other than about 10 to 12 examples around the world, there aren't any music strategies in cities, so we have to think about the entire urban ecology. How can music be used as a tool for housing policy, for education, for transport policy?
"Having a healthy music heritage and system makes cities look good," he adds. "It increases tourism. It increases city branding. It makes young people want to stay. If you have a healthy venue, you're going to have restaurants, minicab firms and bars. It enhances diversity – it doesn't matter where you're from or what sexual orientation you are, music is a communicator.
"And speaking of new developments, if there isn't a creative offering nearby, why would anyone want to live in them?"
Although developers are often responsible for the changes in a city that end up killing mid-range music venues, Shapiro is keen the music industry not demonise them. "A lot of developers are actually doing good work; they're not the enemy. They're just playing within the rules, and the rules are wrong," he says. "You can't just go around saying that developers are shit. You're not gonna get anywhere. We want them to engage."
Advertisement
Some cities do have robust music policies that are widely praised: Austin in Texas (home of South By Southwest), Chicago, Adelaide and Melbourne in Australia, various Canadian cities. Many countries in continental Europe subsidise music venues, making a dedicated urban strategy less necessary; but eastern European cities and many UK ones are less forward-thinking. "Mindset is a huge challenge," says Shapiro. "There are some city councils that don't see it as a priority, and that's completely understandable when they don't have money to provide social care."
The solution doesn't necessarily require more money from taxpayers. Instead, Davyd hopes for relaxed regulations, increased statutory protections and reduced business rates (in line with traditional arts venues). "We should stop calling them 'toilet venues' and recognise them as innovation hubs and incubation spaces," Shapiro says. "If you have 25 bands coming through a venue in a month, what you're actually doing is incubating 25 businesses. Then one of them has a hit song, and that's an important piece of British IP that's been beta-tested in these places."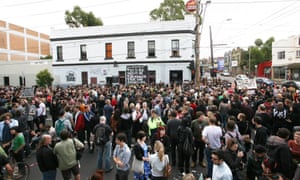 A protest outside the Tote Hotel, Melbourne over its closure. Photograph: Fairfax Media/Getty
Many say introducing the "agent of change" principle – whereby new housing developments have to adapt to existing businesses in the area, such as paying for soundproofing (in either the development or the venue) – would help. First coined in Melbourne a decade ago, agent of change was introduced across the state of Victoria following the 20,000-strong Slam (Save Live Australian Music) rally in 2010, protesting the closure of the much-loved Tote. In a city with 470 live music venues and annual attendances of 14.4 million, legislators realised they were alienating a large constituency by sticking to a hard line. "You need strong political will to introduce agent of change," says Patrick Donovan of industry body Music Victoria. "We had it … and certainly a pressing election didn't hurt."
Indeed, Melbourne is in many ways an ideal music city. Live venues get special status under the Liquor Act; grants are available at all levels for artists and venues; the Music Futures fund committed $2m to music education in primary schools.
London is a different story. In gentrifying Soho the area's reputation as a live music hub has collapsed, with only six venues remaining from a peak of 17, while Hackney borough council's recent plans to curtail post-midnight licences have caused consternation. "The only significant cultural space considered allowable to close for the Crossrail development was the Astoria," says Davyd. "If it was the Royal Opera House there's no way they would have got away with it."
There is a basic disconnect that ghettoises music venues, she adds. "There's been a huge effort to clean up Soho, to make it a lot safer and a lot more welcoming, but the risk is that we go too far and we try to sanitise the things that make the city interesting and exciting. These places have been seen as countercultural: you can go there and do something experimental and new. We recognise that's a really important part of London's success as a city."
The same is true, to greater or lesser degrees, of every city. Davyd laughs at the outdated idea that venues are run by money-grabbing mafiosi rather than music lovers trying to make a living. He dreams of the Music Venue Trust being able to take over the mortgages of UK venues: a "National Trust of music venues", he calls it. "I think we have to accept that these are intentionally risky enterprises, whose job is to put on something that nobody likes yet."